THE ZEN OF ZIN: Lance Silver of Tobin James Winery
By Christopher Trela

Forgive me, for I have Zinned.
Yes, I admit it—I love Zinfandel. No, not the sweet White Zinfandel, although it does account for nearly 10 percent of U.S. wine sales by volume.
I'm talking about the big, jammy, distinctive style crafted by many wineries in Paso Robles, although the grape is grown in most California wine regions. In fact, several years ago Zinfandel narrowly missed being named California's official state grape. Zinfandel is, however, a grape that is distinctly Californian.
Zinfandel is thought to be a cousin to Italy's Primativo grape, and second cousin to Croatia's Crljenak Kaštelanski grape. How Zin made its way to California in its present form is another story, but wine drinkers are happy that Zinfandel has survived, and thrived.
Despite its popularity, Zinfandel represents only 10 percent of grapes crushed in the state, even though a large portion of California's 1200+ wineries bottle Zinfandel either exclusively (like Zin Alley in Paso Robles) or as part of their wine portfolio.
Tobin James Cellars falls into the latter category, although Zinfandel helped put Tobin James on the wine map. The winery makes several different Zinfandel blends, as well as many other varietals and blends.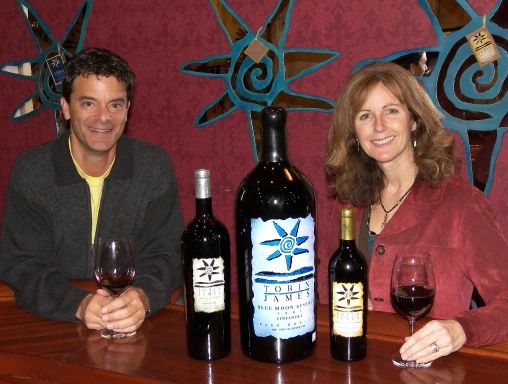 "It's a distinctive wine," says Lance Silver, co-owner of Tobin James Cellars. "California is the only place on earth that grows Zinfandel. It has a popularity that transcends how much is grown. In fact, there is an organization called ZAP (Zinfandel Advocates and Producers) with thousands of consumer members that attend tastings religiously. They're all about tasting big Zins, which express what California is all about: we're big, we're bold, and we do what we want to do."
Big and bold are key ingredients in the wines produced by Tobin James, which has been acclaimed for its Zinfandel blends. According to Silver, that acclaim boils down to the vineyards that produce the grapes.
"Zinfandel tastes different depending on where it's grown—the grape truly expresses each site," says Silver. "We bring in 27 different zinfandel vineyards, and that doesn't count the sub-vineyards within those. The most famous is the Dusi vineyard. Part of that vineyard is 80 years old, part of it is 60 year old, some of it is 25 years old, and so on, so you have an 80-year-old vineyard that is basically many different vineyards in one. This means that when we make our Dusi Zinfandel, it's a blend of several different sub-Dusi vineyards."
Tobin James does have its signature Zin blends. The Silver Reserve Zinfandel is jammy and spicy, peppery yet herbaceous with sage and licorice. Fat Boy Zinfandel is fat, jammy, voluptuous and in-your-face. French Camp is a single vineyard Zin that highlights the brambly and white pepper characteristics.
To achieve their optimum blends, Silver consults with a full-time winemaker along with his wife, Claire.
"I tell them what I want, and they say we can make it even better," laughs Silver. "We sit down with samples of the last two years in front of us and we try to make the next year a little bit better. In California, we are blessed with having nine out of ten great years of grape production---and that tenth year is still really good."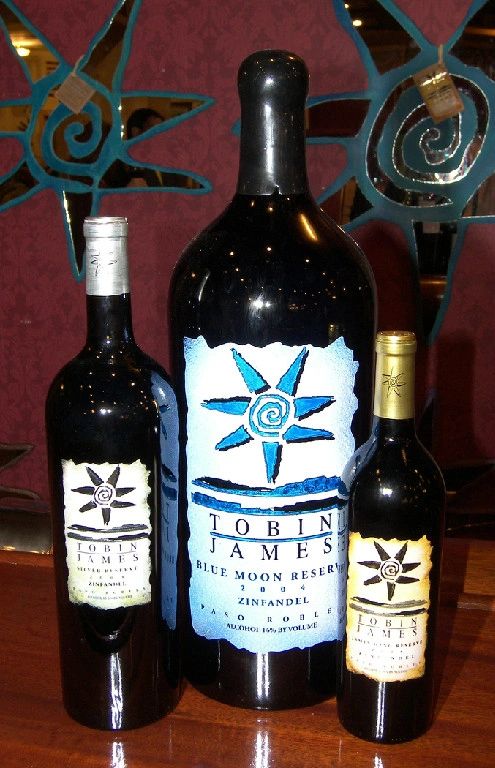 Silver says that consumers have become educated on Zinfandel, and they know that it pairs with a variety of foods.
"Zinfandel works well with greasy foods like cheeseburgers, as well as BBQ ribs, steaks, things like that," says Silver.
One Zinfandel that Tobin James makes – Blue Moon Zinfandel – is what Silver describes as the ultimate expression of Zinfandel.
"It's over the top, jammy, rich, concentrated, with cracked pepper, great spiciness, and notes of anise, sage, and rosemary," says Silver. "When you have all those flavors and you can put them all together and it lingers, that's what we go for."
Even Tobin James' flagship Ballistic Zinfandel is what co-owner Tobin James (yes, that's his real name) calls "Paso in a glass."
As for me, I prefer the Fat Boy…or maybe the Silver Reserve…although the Blue Moon is over-the-top…but the Dusi is nicely refined…
Forgive me, I'm about to Zin again.